ProMax OFAC Screening
The Office of Foreign Assets Control's (OFAC) sanctions regulations prohibit U.S. citizens, businesses and financial institutions from engaging in business or financial transactions with persons or entities on OFAC's Specially Designated Nationals List (SDN list).
In 2010, OFAC assessed fines and penalties in 24 cases totaling $200,735,996.Among those penalized were entities that extended credit, sold goods, or provided services to SDN List individuals.OFAC is actively investigating a number of auto dealers, along with other entities.

What does this mean to your dealership? Hopefully you know the requirement to scan every customer you do business with against the SDN List, both cash and credit customers. If you're relying on your credit provider to screen customers, or conducting manual searches of the SDN List, you could be leaving yourself open to violations.
How the ProMax OFAC Screen process works
OFAC Scanning is automatic!
Logging a customer from any screen in ProMax initiates a OFAC screening. If there is a potential match, the user is alerted and given comparison data to review.
Since every customer is automatically scanned against the SDN List, nobody slips through the cracks!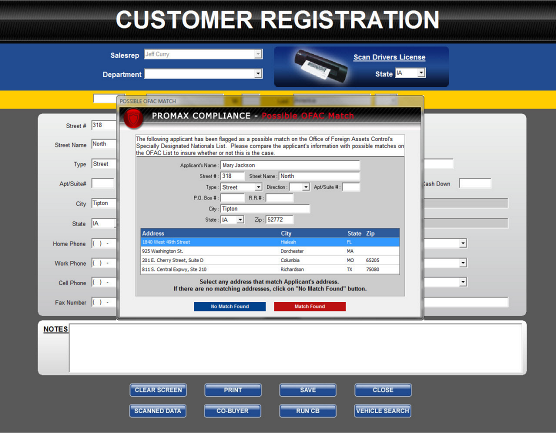 Simple verification Process!
If a possible match is found, the user is able to compare the current applicant's information to the SDN List information for verification.
Instructions are provided to the user for contacting the hotline and a link is provided for more OFAC reporting information.
A button is conveniently provided to start an Incident Report for the match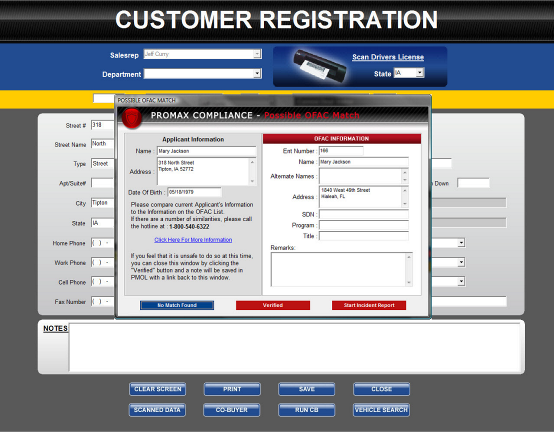 Automatically Date & Time Stamped!
OFAC matches, along with all other compliance and customer interaction is permanently recorded on the Customer Workscreen.
If you're audited, or receive an administrative subpoena, you'll have all the necessary information concerning the transaction in question.


Historical Incident Reports!
Incident reports are permanently recorded on our compliance summary report.
If your OFAC compliance program is ever subjected to an audit, you have all the information you need to prove timely OFAC checks and follow up
ProMax makes complying with the OFAC screening and reporting process incredibly easy. We scan every customer you enter into ProMax as soon as the customer is logged. If you receive a potential "hit", we provide a simple verification process for verifying the possible match. If there are several similarities, we provide the hotline number to your staff.